Talk about a rookie topic. Yup. That's Shantae in a nutshell for me. But I'm not complaining though. I love writing about brand new characters and yes. Brand new video games. Meaning games and characters I've not written about before here at IndieGala.
Well, truth be told, I didn't think I'd have unknown topics, characters and even video games left to write about… But apparently I do, and I'm looking forward to it. Additionally, I love writing about unique female characters as well. So regardless if it's an article about Lady Dimitrescu (truly a fascinating character for me). Or an article about Aloy, from Horizon Zero Dawn (which you can look back here)… It's safe to say that my joy and excitement is immeasurable either way.
But right here and now, I'm all about Miss Shantae. A great female character that I've not yet visited yet with my articles. I'm so excited that I finally got to chance to get to know her a bit more. However, I think a word or two about the game is in order.
What's Shantae: Half-Genie Hero All About?
Developed & published by WayForward, Shantae: Half-Genie Hero Ultimate Edition is a fantastic HD platform video game with a fantastic lead character. The one and only… Shantae. 
That's right! Shantae embarks on her first full HD adventure in this game! When a mysterious crime wave sweeps Sequin Land, it's up to Half-Genie Hero Shantae to save the day! So. You get to use Shantae's devastating Hair-Whip Attack to send monsters flying. Or Belly Dance to transform into a more powerful creature form! And don't forget to topple the masterminds behind each criminal caper and prepare for the ultimate showdown. Against Shantae's arch nemesis – the bodacious buccaneer Risky Boots!
Shantae: Half-Genie Hero Ultimate Edition is available for purchase here, and you're in luck. The game is currently on SALE! Check it out here. But don't despair. Shantae And The Seven Sirens is also on sale. Get it here as well. And if you're curious about our other Shantae games then feel free to click here and snoop around. We'd be happy to suggest any of them, because they're all great. Check them out here. But we're here about Shantae: Half-Genie Hero.
What Are Some Of The Steam Comments Saying About Shantae: Half-Genie Hero?
* Fun and full of content. A must-play metroidvania. Writes hamfistedRevise on Steam.
*While Kun adds: Half-genie, all quality.
So don't miss it. You know where to go to get it.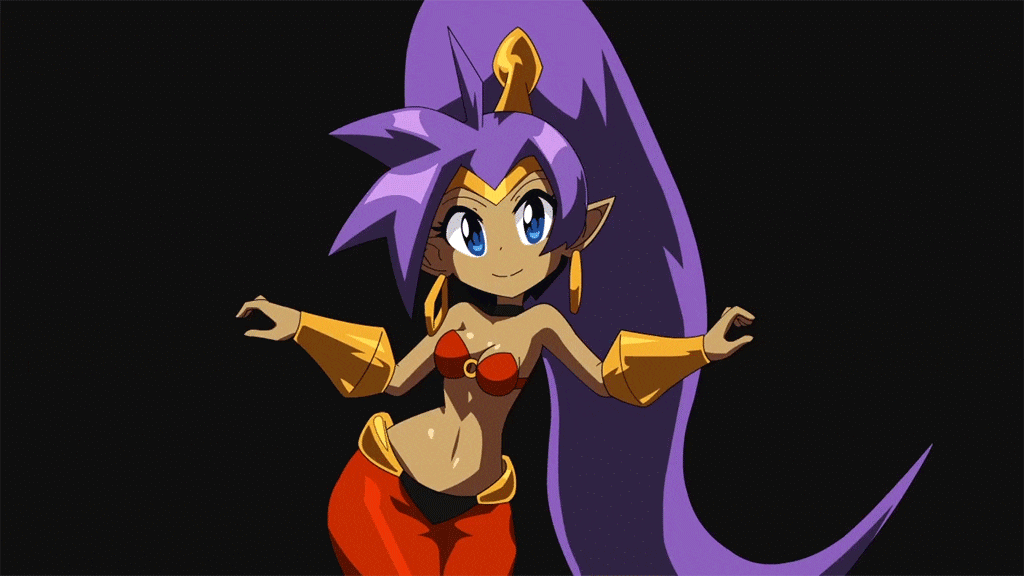 And yes. That half-genie is awesome. But what about Shantae's origins?
Well, as we mentioned earlier in the article, Shantae is basically a half-genie character. She's also the daughter of a human father and genie mother. And she was created (back in the early 90's) by Erin Bell. The wife of Matt Bozon (the game's creator that is). Furthermore, the idea behind the character's conception is a fascinating one. Although there are several conflicting stories about this character, this is the most prevalent one.
According to Erin's telling of the story, she got a flash of inspiration while coming back from her camp counsellor days. So she created the character, and named her "Shantae" after one of the campers. She also developed her dancing abilities. Matt liked the idea and fleshed out the mythology and cast of the game. Later on in the developmental process, Erin imagined that the character could summon or charm animals by belly-dancing. This would later become the basis for the transformation dances and the rest is history.
Furthermore, Matt Bozon has stated that his main influences for the game series are Castlevania, Aladdin, Mega Man, The Legend of Zelda and anime. Mostly Ranma ½ . Which he claims as a heavy influence, and according to Matt, so is Nadia: The Secret of Blue Water. Not to mention the many Hayao Miyazaki's films, and even Pokémon. As well as 80s cartoons like DuckTales or The Transformers. Can't forget about them. While Erin Bozon's main influence was I Dream of Jeannie, especially in the outfit and overall appearance on the character. Do you remember that iconic TV series?
She's Got Some Cool Powers Too!
Oh yes she does! Her occupation is a guardian genie, and her fighting style is magic. And although she consequently has limited magical powers, the ones that she has are fascinating indeed. I'm including her signature whipping hair and magical dances that allow her to change into magical creatures.
So she has to rely on her skills and magical items that she acquires during her adventures to fight her adversaries. But that's not all. Transformation is another great power that she has. Shantae can transform into many forms such as a monkey, elephant, spider, harpy, mermaid, and Tinkerbat. And then there are the Magic spells and magic items and the Fighter Moves of course.
Having received training from Bolo and through upgrades in the shop, Shantae can perform various martial arts techniques such as Back-dashes, Recoveries and several types of kick attacks (Power Kick, Drill Kick, Uppercut Kick).
She's Gorgeous As Well!
Admit it. Her appearance is what strikes you the minute you see her. And why wouldn't it?
Shantae is a professional belly dancer. So her outfit usually consists of sheer harem pants, a bra, and gold jewelry. This look is also known as the red bedlah attire and is the default look in every game. Although it does change slightly as well. She has a relatively thin yet curvy figure and is rather short compared to some other characters in the game. But you do notice her, and you immediately are struck by her uniqueness. She's vibrant and lovely and you just can't help but fall in love with her.
During the events of the first game, she is portrayed at the beginning as young and somewhat naïve. In addition, she often puts herself down; believing that only being half-genie is not good enough. But Shantae has a deep care for her adoptive uncle, Mimic, as well as her friends Sky and Bolo. It is mentioned several times that she doesn't know who her parents are, only that her mother was a genie. But Outside of the Shantae series, she's been featured as a guest character in a number of other games. For instance, Shantae appeared as a guest character in Mutant Mudds Super Challenge. And as well in Super Smash Bros. Ultimate as a spirit. Not to mention A Mii Brawler costume based on her was released as downloadable content for the game on June 29, 2021.
Hey! She's Got An Interesting Fan Base!
To say the least. Although hailed as progressive and feminine character, Shantae has a very argumentative fanbase. That's the vibe I got while I was doing my research on Reddit and other forums. Although the fan art was on point. I mean here's a great example of that artistic excellence. But one of the major complaints I came across is that the character is "too sexualized".
I don't think it's true, but it doesn't really matter really. Not in the today's day and age. But I did notice that the anti-fans of Shantae are a lot more vocal than the actual fans. Which is again… Fascinating. The real fans and the ones that appreciate the character are expressing their love in a healthy and respectful way. The other side, however is not really doing that. But there's no denying the impression that Shantae has made on the gaming community. Good or bad. She's got a strong fan base and she's amazing. I guess that's all that matters.
Don't Miss Out On The Cool Facts About Shantae!
And there are plenty of those indeed. First and foremost did you know that she and Risky Boots (as well as Harmony) are both voiced by Cristina Valenzuela (the voice of Ladybug and many more)? Yes. Furthermore Shantae may have been named after the Latin verb Cantō, Cantāre (to sing, to chant). More specifically from that verb's French descendant, Chanter (to sing, to chant).
And here's an interesting fact: Yoko Littner from Gurren Lagann bares a striking similarity to her appearance. Except she's a sniper for Team Dai-Gurren Teacher and Shantae is a professional belly dancing half-genie hero.
But what's your favorite Shantae fact? Let us know in the comment section. We'd love to know all about